James Brandt Ministries
James Brandt Ministries is a non-denominational Christian ministry that is evangelizing the lost and equipping the Body of Christ. Those who attend Revival Christian Center (Training/Healing/Deliverance Center) and the "Revival Experience" meetings around the world will grow spiritually as they are trained from the Word of God to be ambassadors for the Lord Jesus Christ (2 Corinthians 5:20; John 14:12)! We promote an atmosphere of faith in our services where the Holy Spirit is free to move and manifest Himself in the operation of spiritual gifts (1 Corinthians 12). You will leave each service refreshed and ready to fulfill the will of God for your life! Come and find out for yourself why our ministry has the word "Revival" in it's name!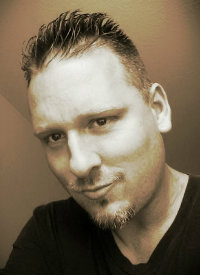 James Brandt preaches and teaches the Word of God in such a way that is easy to understand and that will help you grow spiritually in Godís Word. His bold and uncompromising delivery of Godís Word creates an atmosphere of faith that allows the Holy Spirit to minister to each person in a powerful way. James ministers under a strong prophetic anointing that will cause you to leave each service with a greater hunger and passion for Godís Word, manifest presence and power in your life! James Brandt is a graduate of RHEMA Bible Training Center in Tulsa, Oklahoma. While attending RHEMA, he was employed by the Oral Roberts Evangelistic Association working with the Abundant Life Prayer Group. He also Pastored full-time for about 4 1/2 years. James is an Ordained minister of the Gospel of Jesus Christ, and has been ministering since 1999.
James' Supernatural Testimony below
On May 3rd, 2007, I had a supernatural experience that changed my life and relationship with God forever! I have shared this many times in my preaching and one on one conversations with individuals, but I realized that I have never wrote it out to share, so here it is...
Back in April of 2007, I attended a Great Awakening Conference in Jacksonville, Florida and received a powerful prophetic word from Dr. Rodney Howard-Browne...when I returned back to Big Rapids, Michigan to the Church I was Pastoring at the time (Revival Christian Center), I felt very strongly in my spirit that I needed to call the church to 14 nights of prayer...up to that point I have been crying out to God for more of His presence, more of His power, and for more revelation of His Kingdom and the realm of the spirit. My expectation was very high and I knew that God was getting ready to do something that was going to rock my world and answer the cry of my heart to Him.
The church responded well to my call to prayer...most came for about an hour or two and left...and about 4-6 stayed until about 2-3am every night and really pressed in and desired a supernatural move of God. The nights were filled with people praising & worshipping God, intense prayer in English and in tongues. Let me tell you this, God is a Rewarder of those who diligently seek Him, and He desires to give unto us the things of His Kingdom more than we know; He is just waiting for us to desire it and draw near to Him!
On the tenth night of prayer out of the original 14, a supernatural breakthrough finally came! At about 12:03am on May 3, 2007, me and five other individuals were sitting at the front of the church taking a short break and talking about the things of God...in the back of the sanctuary there was a very thick and large stage curtain that separated the overflow section from the regular sanctuary area...the lights were dim and as I looked towards the back of the sanctuary at the very large stage curtain, it was moving very noticeably in a wave-like motion...the strange thing was, there was no fan or air conditioning on and no windows were open...it was moving on its own...so I brought it to the attention of the others and we were surprised at what was happening with it. So I stood up and began to walk toward the curtain in the back of the sanctuary, and as I did, the presence of God got stronger and stronger on me and in the building...everyone felt the whole atmosphere change dramatically once we recognized the curtain! It felt like electricity was flowing through every part of us and at the same time like warm oil being poured over us...it felt heavenly! In fact, it took some time to get to the back of the sanctuary, because we were so overwhelmed by the manifest presence of God! In the Old Testament it talks about the glory of God filling the Temple to such a degree that the Priest's couldn't even minister...that's what we were feeling! When we finally got to the back of the sanctuary by the curtain (I am telling the honest truth and not exaggerating at all), the sound or roar of wings were going over our heads at the top of the curtain back and forth like angels were flying back and forth...and very strong wind like sound...the presence of God would hit us like a wave going back and forth and we all fell to the ground! And then flashes of light like lightning were going off all over the sanctuary...those were angels manifesting! And then a sparkling substance began to fall in the sanctuary in different locations...most that have experienced this call that substance "gold dust"...it's just a sign and a wonder. We were experiencing a move of God just like we read about in the Bible...that was my heart cry to God and He allowed me to experience it...more than once! We heard angels singing when we walked into the lobby of the church...so heavenly and beautiful that human words can't even begin to describe it! We seen many angels manifest in different forms.
Everything I wrote in this testimony is the honest truth of what took place...five other people experienced the same thing with me that night. We were nobody special, we just had a desperate desire to go deeper with God and pressed in until the breakthrough manifested...you have that same opportunity! God is so good, beyond what our human minds can comprehend! He is waiting for you to spend quality time with Him...it is His good pleasure to give unto YOU the Kingdom! I know for me personally, I will never be the same again since He came near...and I want more!